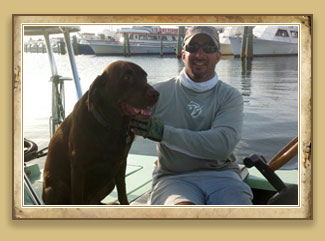 Captain Bob has been fishing his whole life and is a very well rounded fisherman. His father was an avid fly fisherman who showed him the ropes at a very young age. He got his start with with the traditional Zebco 202 fishing for blue gill and large mouth bass. When his father thought the time was right, he taught Bob the fine art of fly fishing for trout and large mouth bass. It was not long before Bob bought his first boat and started fishing for rockfish on the Chesapeake Bay. He then moved to Ocean City, Maryland where he became a successful offshore mate earning his master captain's license fishing primarily for marlin, tuna and shark.

While working in the Florida Keys on an offshore fishing boat, he discovered flats fishing and knew this was right up his alley. He then bought a house on Cudjoe Key where he immediately started doing his homework learning the flats and tides of the surrounding keys. After years of study, he decided the time was right and started up Double Haul Charters. He is a full-time guide.

Capt. Bob will guide you on your search for bonefish, tarpon, permit, barracuda, shark and anything else you may encounter and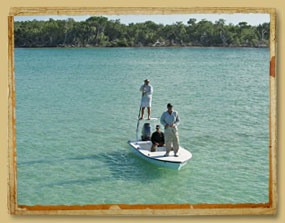 make you feel as comfortable as if you were fishing with an old fishin' buddy. He is very patient with children and novice anglers as well as the experienced old pro and will fine-tune your fishing skills regardless if you chose fly or spinning tackle. If your fly-casting is rusty or if you are new to fly fishing, Bob is an experienced fly fishing caster and will gladly share his knowledge with you for as long as it takes.

Bob has devoted his whole life to fishing and feels a great amount of pride each time you hook a fish and will use all of his experience to put you on fish. So for a great time on the water, come join Capt. Bob at one of the finest fishing destinations in the world, the Florida Keys.