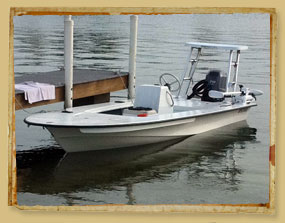 The 16' Super Skiff Pro is the most widely used and respected boat in flats fly fishing today. Designed for long range running in open bays with a severe chop, the hull is a unique combination of deep V (18 degrees) and shallow draft (8"). The Super Skiff was the first boat specifically developed for stalking wary Bonefish on the shallow flats–earning its reputation as the quietest, stealthiest, best poling boat on the planet. There are imitators–but there is only one legend - the Super Skiff.






Fishing tackle provided
Regardless if you choose fly fishing tackle, spinning tackle, or bait casting tackle, you will not be disappointed with my high quality rods, reels, lines etc.

All tackle is new and kept in tiptop shape. You will find that my reelís drags are super smooth and packed with new top quality line. My leaders are tied with perfectly formed knots and will meet I.G.F.A guidelines in case we run across a fish of a lifetime or better yet, a world record. You will appreciate my attention to detail down to my hand-filed hooks. I challenge you to find a dull hook on my boat.